York Hiking Club

Newsletter

Hiking Dates
Welcome to the York Hiking Club Newsletter, a complete monthly listing of hikes, work trips, special events and announcements.

All are welcome to come on out on a hike to see what the club is all about.

A welcome sheet is handed out at every hike. This sheet has all you need to join and get on the mailing list.

Need more information on a hike or activity?

Just contact the event leader- they will be happy to answer your questions.

Parking / Directions For the Club! Four Lots Click

Print version! also the PDF version!
************************************************************************
August 2013

Chairperson: Bob Falsetti, 717-854-3437,
(In the event of inclement weather, please contact the hike leader in advance of the meet time
for information on any change in the activity.)
(

Please

make telephone calls before 9PM.)

Blue links below take you to a map page!

Parking For the Club! Four Lots Click

Fee for a hike is only if one Carpools.
Please volunteer to lead a hike or two for this 2013 year.


August 3 Saturday – Night Hike: Beat the Heat. Evening/night hike at Otter Creek. Approximately 4.5 miles. Meet at JPJ Cabin at 7:45 P.M. We'll carpool to the Mason-Dixon Trail at Kline Road and hike back to the cabin. Some wag is calling this the "Another Way to Die Hike." We'll take it easy/slow to make it as safe as possible. But if you have any qualms about it, please take a pass. If you're game, be sure to bring a headlamp. Also appropriate shoes, water, snacks. Rain or threat of rain will probably cancel the hike. Contact Paul Yatabe (717-872-1902) or for information/status before 6:30 P.M. of hike day.


August 4 Short Hike: A four-mile hike around Lake Williams. We will meet at the parking lot on South George Street (across from Lake Redman) at 12:30 P.M. Bring a snack and plenty of water. Hike leader Bob Falsetti, 717-854-3437 or .


August 6 Board Meeting: The board meeting will be at Bernie Frick's house at 7:00 P.M. Please call Bernie if you need directions (717) 843-6675.


August 10 Paddling Trip: As an alternative to hiking in the heat, try an easy stream paddling trip on the Yellow Breeches. We will meet at 8:00 A.M. at Jim Lecrone's house, 1548 Hilton Ave, Dover, where we will organize cars/boats. Our trip will start from the covered bridge at Messiah College and cover about 7 miles to the Lower Allen Community Park. The Yellow Breeches is designated a PA "Scenic Stream" characterized by long shady pools with a few riffles and is popular for tubing. It originates on South Mountain in Michaux State Forest and generally maintains a good flow. More details can be found at http://www.fish.state.pa.us/anglerboater/2008/04julyaug/02breeches.pdf. While there are no planned portages, the water level in August can be low and we may need to push the boats over some shallow spots. Time on the water should be about 3 hours with a return time of mid-afternoon. If you don't have your own boat, but would like to do the trip, depending on whom we hear from, there may be extra space. Bring a lunch and water. Trip fee $3. If interested, contact Jim Lecrone 889-4523 or Bernie Frick 843-6675.

August 11- Medium Hike: 8.6 miles. We'll begin on the A.T. at Pine Grove Furnace, hike past Toms Run Shelter, hop onto Sunset Rocks Trail to the overlook, then head back. There is a short section where we'll be climbing over boulders. Bring hiking boots, water and lunch. Meet at Adams Electric at 8:00 A.M. Carpool fee is $5.00. Hike leader Elyshia Menkin at 734-536-9453 or .

August 18 Medium Hike: This loop hike of approximately 7 miles beginning and ending in the center of Pine Grove Furnace State Park has everything - one good climb to Pole Steeple, Fuller and Laurel Lakes, woodlands, and streams. We'll find a cool spot for lunch and finish with time to explore the AT museum, enjoy ice cream at the country store, and/or enjoy a dip in the lake. Bring hiking boots, lunch, water, bug stuff, swimming suit, towel, etc. Meet at Adams Electric at 9:00 A.M. Hike leader: Gwen Loose, (717) 891-9967 Carpool fee is $4.00

August 23 Trails Meeting: Meet at the Hooper farm at 7:15 pm to plan the upcoming trail work for the YHC. If you have any questions, contact Jim Hooper at 717/252-3784 or at .

August 24, Saturday- JPJ Work Day: Come on out and help get the JPJ Cabin ready for the fall season. Jobs available for everyone inside and out. There is big work and little work. Anyone like to paint? Wear old clothes and bring lunch. Meet at JPJ at 9:30 A.M. hot coffee and iced tea will be served with Sarah's Famous Brownies. Last time we were done by 1 P.M. and took a hike! It's a fun day and we get stuff done. For more information contact: Sarah Tateosian (717) 741-2652.


August 25 Mason-Dixon Trail System Hike and Meeting: Meet at the YHC cabin at Otter Creek at 9 am for a five mile hike involving the Mason-Dixon Trail. Following the hike there will be an M-DTs meeting for all who wish to attend. If you have any questions, contact Jim Hooper at 717/252-3784 or at .

August 25 – Medium Hike: Medium loop hike of about 8 miles in Harpers Ferry, WV. Will hike into historic town of HF via the AT and climb to Maryland Heights and beyond, then back to HF. Climb is strenuous. Scenic views of rivers and town. Fee to park (about $5 per car). Optional swim or ice cream afterwards. Meet Adams Electric at 8 A.M. Carpool fee $5.00 Bring boots, lunch, water and insect spray. Hike leader: Kim Shue at 717-688-5142 or .



Announcements:

Volunteers Needed to work at the YHC Water station at Otter Creek Campground for the Susquehanna Super Hike on Saturday, September 7 from 6-10 a.m. Contact Tim Schmidt, , 717-235-5940.

August 12-17: North County Trail Association Western PA. Go to the KTA website for more information.
info@kta-hike.org


M-DTS meeting - We scheduled the next M-DTS meeting and hike (or work hike) on August 25.


Log Book - Please send your hike write-ups to our Log Editor, Jim Trautman at

New Member: Vanessa Xiao has just met her requirement of 30 miles and has been sent an invitation to join the club. We are looking for forward to more hikes with Vanessa.


FEELING LEFT OUT???: Please don't be bashful feel free to step forward anytime to lead a hike. Please don't wait to be asked. Call the monthly chairperson or me Al Britton 717-741-0624 or . I will put you in touch with the right person. Not sure you know what to do or you would like some one to go over the hike with you, well call me, I'll be glad to help. No experience is necessary, just a desire to get involved. The hike can be of any length.

GOT A NEW EMAIL ADDRESS? PLEASE NOTIFY Bernie Frick, and Phyllis Morley, if you have changed your e-mail address. This information is held by the club only and will be used to send club information and inclusion in our yearly logbook. Thank you for your cooperation.

THURSDAY WEEKLY TRAIL MAINTENANCE: Contact Jim Hooper for information of that week. 717-252-3784 or


WANTED: Individuals who are willing to lead short hikes on Wednesdays There is no need to wait for the weekend to get outside. Give me a call or e mail me 717-741-0624 or

A DIFFERENCT KIND OF ACTIVITY: If you would like to lead a bike hike, canoe or weekend camping trip please let me know. Allen Britton 717-741-0624 or

KTA WEEKEND: July 19-21, 10th Annual Proul to Sproul Hike, contact KTA for more details.




Please volunteer to lead a hike or two for this year's schedule.

* "If there are no objections within 10 days" refers to things like almost getting a hike kicked out of a park.

A sheet is handed out to all New hikers at the parking lots before the hikes.

Our new place for meetings/events is inside the York Township Recreation Building, directions as follows:

From I-83 exit 16, take Queen St (PA-74) south for about 1 mile. At Campbell Music, turn left onto Oak St. Drive about a

tenth of a mile and stop at the stop sign; do not turn right. Drive straight ahead past the township building to the small

building in the middle of the field.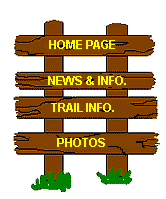 Parking lot maps
Vo-Tec (York County High School of Technology)
North End meeting place next to Rutter's Store