York Hiking Club

Newsletter

Hiking Dates
Welcome to the York Hiking Club Newsletter, a complete monthly listing of hikes, work trips, special events and announcements.

All are welcome to come on out on a hike to see what the club is all about.

A welcome sheet is handed out at every hike. This sheet has all you need to join and get on the mailing list.

Need more information on a hike or activity?

Just contact the event leader- they will be happy to answer your questions.

Parking / Directions For the Club! Five Lots Click

Print version! also the PDF version!
************************************************************************
December 2009
Chairperson: Kim Herbst
887-4462 or
(

Please

make telephone calls before 9PM.)

Blue links below take you to a map page!

Parking For the Club! Five Lots Click

Fee for a hike is only if one Carpools.




December 6 - Short Hike: 5-6 mile circle hike in the Accomac area along the Susquehanna River. Hike will consist of paved and dirt roads with one long hill. Bring good boots, water and snack. Meet at the Galleria Mall, east side of Boscov's East Parking (across from Texas Roadhouse) at 1:30. Car pool fee $1.00. Hike leader: Joan Fritzpatrick - (717) 434-5586

December 13 - Short Hike: Gifford Pinchot State Park 4.5 mile loop hike on the Conewago Day Use side. Mild to Moderate trail conditions with some over growth in a few places. Certain areas of the trail can be muddy depending on rain fall for the week. Bring hiking boots, water, and snacks. Meet at 1:30 P.M. at the West Parking lot (Adams Electric). Car pool fee: $1.50. Hike Leader: Alan Noble (717) 938-8506 or .

December 13 - Medium Hike: 8 mile hike on the Mason-Dixon Trail System starting at Broad Creek Park in MD and ending at Shures Landing near Fisherman's Park, just below the Conowingo Dam. This hike follows the Susquehanna River south on a variety of woods trails, old roads and finishes on a section of hard road after crossing Rt 1 and ending at the public park owned by the power company. We will spend a little time after the hike at the park, which affords excellent views of the dam and the bird life that feeds on the fish in the river below the dam. Migrating and wintering bald eagles favor the area, as well as osprey, comorants, great blue herons and a variety of ducks and gulls. For those inclined, bring binoculars, cameras and bird books. We will big a scope for close-up viewing. Meet at Vo-Tec (York County High School of Technology) off Rt 74 at 8:30 AM. Car pool fee is $5. Bring lunch, suitable foot wear and drinking water. Hike leaders Alice and Bernie Frick can be reached at 717-843-6675 or .

December 20 - Medium Hike: Nine miles in Michaux State Forest on hiking and multi-use trails. Meet at Adams Electric at 8 AM. Car pool fee $5.00. Bring boots, water and lunch. All are invited to Creekside Cottage afterwards for cider, hot chocolate and Christmas goodies. Hike leader: Pat Yale (717) 495-2839 or

December 27 - Short Hike: Approximately 5 miles around Rocky Ridge Park. Meet at the first parking on the left at Rocky Ridge at 1:30. Bring water and snack, if you wish. Wear good walking shoes or hiking boots. Hike leaders: Jerry and Chris Broome (717) 757-6357.


December 27 - Medium Hike: Moderately strenuous 8 mile loop hike on Cove Mountain with great views of the Susquehanna River from Hawk Rock overlook and mountain ridge. Bring hiking boots, lunch & water. Meet at the North End meeting place next to Rutter's Store at 8:30. Car pool fee $5.00. Restaurant stop will be optional after the hike. Hike leader: Kim Herbst (717) 887-4462 or


ANNOUNCEMENTS:


We welcome into membership: Charles M. Gladfelter, Jr., Manchester PA
717-266-1879. Email:

Hike leaders - Please help us with our records by sending (1) the hike log to Jim Trautman - AND (2) the list of all those attending your hike to Phyllis Morley - in a timely fashion. Their contacts appear at top of newsletter. THANKS!

Activity leaders needed for next year: Visit the 2010 calendar posted on the porch of JPJ cabin during the turkey hike/dinner and sign-up to be an active member of York Hiking Club - lead a hike, help clear a trail, offer a slide show, organize a meal, or mix it up by leading a bicycle ride, some geology treks, moonlight walks.....and thanks!

Thursday Work Trips: Every Thursday a group meets to do trail work. Contact Jim Hooper at (717) 252-3784 or .

A.T. Museum is coming to Pine Grove Furnace State Park: The first and only museum about and for the A.T. will open June 5, 2010 (National Trails Day) in the Old Mill, featuring an exhibit on our past member and president Earl Shaffer. All maintaining clubs and hikers are invited to be a part of this historic event! Hikes and other special events are now being planned. To learn more about the museum project, to volunteer, or to make a donation contact Gwen Loose at (717) 891-9967 or visit the museum website at www.atmuseum.org.

Hike leaders remember to contact Phyllis Morley immediately after your hike to report number of club members and guests who were on the hike and the number of miles hiked. If the hike is cancelled, still let her know. Email or phone 764-6822 or snail mail a copy of the sign-in sheet to 2640 Wexford Lane, York, PA 17404 -anyway will do!!!

Reminder, anyone wishing to receive their newsletter by e-mail instead of by postal mail (we have saved postage costs keeping dues down), please forward your e-mail address to Bernie Frick to sign up.


Any hike leader who has maps (topo, hand drawn, or otherwise) of past hikes they have led are asked to send a copy to Tim Schmidt, president

Tim has volunteered to maintain a catalog of hikes to be shared with future hike leaders who are looking for suggestions of where to hike. Thanks!

BE COOL! - Sport a York Hiking Club license plate on your car. Cost $5. Contact Tim S. at (717) 235-5940.

and ask for details.





Please volunteer to lead a hike or two for this year's schedule.

* "If there are no objections within 10 days" refers to things like almost getting a hike kicked out of a park.

A sheet is handed out to all New hikers at the parking lots before the hikes.

Our new place for meetings/events is inside the York Township Recreation Building, directions as follows:

From I-83 exit 16, take Queen St (PA-74) south for about 1 mile. At Campbell Music, turn left onto Oak St. Drive about a

tenth of a mile and stop at the stop sign; do not turn right. Drive straight ahead past the township building to the small

building in the middle of the field.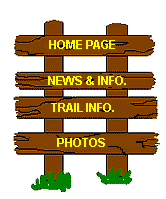 Parking lot maps
200 W. Market St. MAP!
Vo-Tec (York County High School of Technology)
North End meeting place next to Rutter's Store