York Hiking Club

Newsletter

Hiking Dates
Welcome to the York Hiking Club Newsletter, a complete monthly listing of hikes, work trips, special events and announcements.

All are welcome to come on out on a hike to see what the club is all about.

A welcome sheet is handed out at every hike. This sheet has all you need to join and get on the mailing list.

Need more information on a hike or activity?

Just contact the event leader- they will be happy to answer your questions.

Parking / Directions For the Club! Four Lots Click

Print version! also the PDF version!
************************************************************************
Febuary 2013

Chairperson: Sarah Tateosian
741-2652
(In the event of inclement weather, please contact the hike leader in advance of the meet time
for information on any change in the activity.)
(

Please

make telephone calls before 9PM.)

Blue links below take you to a map page!

Parking For the Club! Four Lots Click

Fee for a hike is only if one Carpools.
Please volunteer to lead a hike or two for this 2013 year.


February 3 - Short Hike - Mason Dixon Trail - Hike from Hooper's farm 3 to 6 miles, your choice. We will be mostly on the Mason Dixon Trail in any direction we choose. Wear hiking boots (warm ones) and bring a snack and water. Meet at Boscov's East Parking lot off of route 24 across from Texas Road House. Leaving the parking lot at 1 PM. Hike leaders are Jim & Joyce Hooper. Contact . or 717-252-3784 for any questions. Carpool fee $1.

February 10 - Chili Hike - Medium Hike - JPJ Cabin - At 10 AM Tim Schmidt will lead the 7 mile hike. It will include a path never used by YHC before and there will be several opportunities to shorten the hike for those who wish to return to the cabin.
Dinner is at 1:30 PM. Call Julie Falsetti at 854-3437 or email before 9:00 PM Thursday February 7 to make meal reservations. Meal cost will depend on Julie's grocery cost plus cabin use fee.

February 17 – Short Hike - Nixon County Park & Lake Williams - This will be a 5 or 6 mile hike depending on weather I get lost or not. This hike was shown to me by Lou so if we get lost he's to blame! There are two 300 foot climbs and a somewhat steep finish near the end. I do not consider this a difficult hike. Meet at the Vo-Tec (York County High School of Technology) parking lot at 1 PM or the park office bottom parking lot at
1:15 PM. Rain or Snow cancels. Hike Leaders - Lore & Allen Britton 717-741-0624 of

February 17 - Long Hike – Michaux Forrest - Hike will be approximately 11 miles on the Raccoon Run Trail and the AT. Expect moderate to strenuous climbs due to rocks. Good vistas if the weather is cooperative, some small steam crossings. Come with us and get rid of that February cabin fever. Bring sturdy footwear, lunch, and water. Carpool fee $5.00 Meet at Adams Electric to leave at 8:00 AM. Hike leaders Tom & Phyllis Morley, 717-764-6822 or .

February 24 – Short Hike - Middle Creek Wildlife Preserve - 6 miles easy hike but muddy so wear boots or go barefoot. We are heading to Middle Creek Wildlife Preserve to see millions of white geese and swans circling overhead. (Well, we hope not directly overhead!) Then we will hike along a beautiful creek on a historic trail and then up through the woods. A dinner stop is optional. Carpool fee $4. Hike leader Sarah Tateosian 741-2652. Meet at 1:00 PM at the outer edge of the Boscov's East Parking lot.

February 27- Wednesday Short Hike - A small but enthusiastic group has been enjoying mid-week hikes. We wander everywhere. Come and join us. Call Sarah 741-2652 for where in the world we go this week, or you can make a request and/or lead/ or scout your hike! Usually we start about 1:30 PM but we are flexible.

ANNOUNCEMENTS:


Invitations to join the hiking club have been sent to Joe and Melissah Fetterman, York, PA 17402 Frank Kempf, York, Pa 17408 is welcomed into the club as a new member.

The Chairperson(s) have the following:

Sarah says many thanks to the cheerful folks who are leading hikes this month! Everyone I called agreed to lead a hike. I even had an extra!

Various items have been left at the JPJ Cabin after numerous activities. Two canvas chairs, a sweatshirt, mittens, gloves and five friendly mice are waiting to be claimed. Call Sarah at 741-2652.


GOT A NEW EMAIL ADDRESS? PLEASE NOTIFY Bernie Frick, and Phyllis Morley, if you have changed your e-mail address. This information is held by the club only and will be used to send club information and inclusion in our yearly logbook. Thank you for your cooperation.

THURSDAY WEEKLY TRAIL MAINTENANCE: Contact Jim Hooper for information of that week. 717-252-3784 or






Please volunteer to lead a hike or two for this year's schedule.

* "If there are no objections within 10 days" refers to things like almost getting a hike kicked out of a park.

A sheet is handed out to all New hikers at the parking lots before the hikes.

Our new place for meetings/events is inside the York Township Recreation Building, directions as follows:

From I-83 exit 16, take Queen St (PA-74) south for about 1 mile. At Campbell Music, turn left onto Oak St. Drive about a

tenth of a mile and stop at the stop sign; do not turn right. Drive straight ahead past the township building to the small

building in the middle of the field.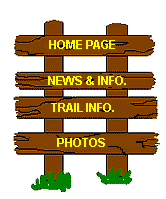 Parking lot maps
Vo-Tec (York County High School of Technology)
North End meeting place next to Rutter's Store