York Hiking Club
Trail Work
We welcome all trail workers!

No special skill or experience is required to participate.

We maintain a section of the Appalachian Trail near Duncannon, Pennsylvania and the Mason-Dixon Trail System along the Susquehanna River York County area.

If you would like to do trail work or have trail problems to report contact .

Boundary marking on Peters Mountain Clarks Ferry Shelter Construction
Appalachian Trail Maintenance
We maintain an A.T. section in Pennsylvania from the western bank of the Susquehanna River to the top of Peter's Mountain at Route 225. This section includes the Clark's Ferry Shelter and Outhouse. Periodic organized Work Trips are held by the club.
Maintenance Work Includes:
o Trail building
o Cutting brush back from the trail
o Cutting blowdowns
o Blazing the trail
o Keeping the boundary marking
o Maintaining the Clarks Ferry Shelter and Outhouse
o Maintaining bulletin boards
The York Hiking Club has been doing maintenance on the A.T. since 1948.
For more information about the Appalachian Trail go to http://www.appalachiantrail.org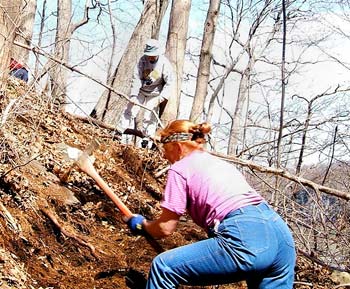 Trail Building on the Mason Dixon Trail
Mason-Dixon Trail System Maintenance
We build and maintain 40 miles of the Mason-Dixon Trail System (M-DTS) in Pennsylvania from Route 372 to Wrightsville. The M-DTS is a 193 mile long trail from Chadds Ford, Delaware on the Brandywine River where it proceeds SE to Maryland. It crosses the Susquehanna River at Havre de Grace then follows the southwestern bank of the river to North of Wrightsville where it goes West to join the A.T. at Whiskey Springs. The Y.H.C. is a founding member of the M-DTS.
For more information on the York County part of the M-DTS go to mdts2.html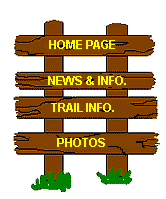 Web Master: Jim T.
May, 2 2005